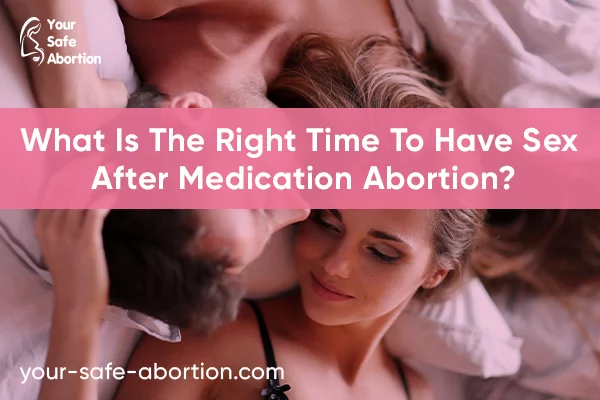 February 24, 2023 10:16
April 11, 2023 11:35
When Should You Have Sexual Activity After a Medication Abortion?
Due to its convenience, affordability, and privacy, medication abortion with ANTIPREG pills is preferred by many women worldwide over surgical abortion.
Abortion drugs are safe for health and have medical approval. Women who purchase ANTIPREG pills online and have an abortion don't notice any adverse effects on their fertility. However, women should be aware of a few factors if they do not wish to become pregnant quickly after having an abortion.
This blog post will go through a few often-asked queries about having sex after getting an abortion.
How long should I wait before having sex after having an abortion?
After undergoing an abortion with ANTIPREG pills, you can have sex whenever you feel ready. Depending on the patient's condition, the recommended waiting period for sexual activity differs from person to person. The lady may have to wait six days, a few weeks, or even until her next menstrual cycle.
Can abortion change a woman's menstrual cycle?
After an abortion, the menstrual cycle usually takes a few weeks to return to normal.
Is it possible to get sick after having an abortion?
The cervix is widened during the abortion procedure to discharge the embryonic material. The cervix takes a few days to shut back up. Inserting anything into the vagina when it is still wider than usual can result in infection. To avoid using tampons or menstrual cups, experts advise using sanitary pads.
Can you become pregnant right away after having an abortion?
Yes, you are getting pregnant immediately after an abortion is highly likely. However, ovulation may occur before your first menstrual cycle following an abortion. Therefore, if you wish to avoid getting pregnant soon after having an abortion, you should use contraception during vaginal contact.
Why would I have to hold off for more than a week following the abortion?
Your health will determine precisely how long you should wait before engaging in sexual activity. Sometimes it requires more time, mainly if the pregnancy is somewhat lengthy.
Some women might have to wait until they are sure the entire pregnancy has been evacuated from the womb. Before engaging in sexual activity, it is recommended to get a comprehensive pelvic exam.
What are forms of birth control available?
Hormonal birth control
When having a medication abortion, you can begin using hormonal contraception. You may be instructed to start using the first or last medication used in the abortion procedure depending on the type of contraception you use.
The doctor will prescribe your preferred contraceptive form and provide instructions on how and when to use it after confirming that the abortion procedure was effective.
Intrauterine gadgets
After an abortion has occurred for a few days, an intrauterine device can be implanted. It can only be inserted into your uterus by a doctor. Suppose the intrauterine device is not implanted immediately following an abortion. In that case, you might need to use another form of contraception if you engage in sexual activity but do not want to become pregnant.
What if I engaged in unprotected sex soon after having an abortion but didn't want to become pregnant?
You can use an emergency contraceptive if you have unprotected intercourse immediately after an abortion or if you believe your chosen form of birth control has failed.
First, emergency contraceptive pills must be used as soon as possible for the best success. Unfortunately, this approach isn't always entirely successful.
An intrauterine device can be placed within five days of having unprotected sex. The advantage of intrauterine devices is that they may remain functional for up to five years.
Which contraception is best for me?
To be aware of the ideal technique of contraception for you. Consult your doctor as soon as possible.
Takeaway:
After an abortion, women can become pregnant quickly. Therefore it is best to delay having sex until the doctor recommends it and use contraception to prevent getting pregnant. But if a woman becomes pregnant, she can get abortion pills from our website with quick dispatch.
SUMMARY
Many women prefer medication abortion with ANTIPREG pills compared to surgical procedures. The period suggested by the doctor to wait for sexual intercourse varies from person to person, depending on the individual's health. If you don't want to get pregnant soon after the abortion, you should use a contraceptive during vaginal intercourse.
After completing the abortion process, the doctor will prescribe your chosen contraceptive and instruct you on how and when to start using it. For example, you can start taking hormonal contraceptives during a time of medication abortion.
In case of the intrauterine device is not planted immediately after an abortion, you may need another contraceptive method if you indulge in sexual intercourse and do not want to get pregnant. Women can get pregnant soon after the abortion, and it is good to avoid sexual intercourse till the time suggested by the doctor to prevent pregnancy. What if I had unprotected sex soon after the abortion and did not want to get pregnant?