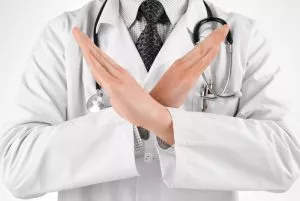 Contraindications to Medical Abortion
Absolute contraindications
The absolute contraindications list is not very long, but it must be strictly followed. "Absolute" means that MTP is strictly prohibited in the below situations.
Ectopic pregnancy (suspected or confirmed);
A pregnancy that has occurred while using an intrauterine device (IUD). The IUD must be removed;
The reproductive organs Infectious inflammatory processes in the acute stage. Adequate treatment is needed;
Infectious inflammatory processes in the gastrointestinal tract in the acute stage: gastritis, enterocolitis, cholecystitis, pancreatitis. Adequate treatment is necessary;
Severe bronchial asthma and other chronic obstructive pulmonary diseases (severe or decompensated);
Prolonged treatment with corticosteroids;
Chronic hepatic, adrenal insufficiency;
Hypersensitivity to Mifepristone or Misoprostol;
Various genesis Hemorrhagic disorders: hemophilia, hemorrhagic anemia stage II-III, hemorrhagic syndromes;
Anticoagulants administration (heparin, frauxiparin);
Cardiac valve replacement, infectious endocarditis history;
Severe arterial hypertension is a contraindication to Misoprostol use. Mifepristone is the only option for medical abortion in this setting.
Relative contraindications
Below is a list of relative contraindications to abortion pills. "Relative" means that MTP must be performed with great caution if the conditions listed below are present.
Smoking women over 35 who smoke more than ten cigarettes a day belong to the relative restrictions group.
Often, abnormal processes in the clotting system occur in this patient category, resulting in more prolonged and more intense bleeding. A consultation with a general practitioner should precede medical abortion services.
Uterine myoma. MTP is possible only after a gynecologist nodule and the relevant opinion size and objective localization examination.
Breastfeeding mothers should stop breastfeeding for seven days after Mifepristone administration (if 200 mg dosage is used, the period increases with higher dosages).
In progress, spontaneous abortion (miscarriage) is not a contraindication to the Mifepristone+Misoprostol complex. In this condition, the complex will ensure the fetal egg's accelerated release within complete abortion a reduced chance.