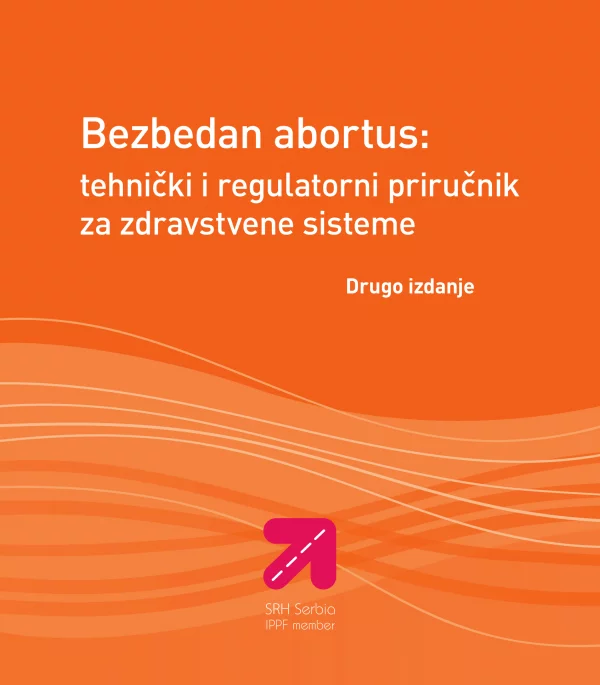 May 12, 2022 13:42
April 03, 2023 16:43
Bezbedan abortus: tehnički i regulatorni priručnik za zdravstvene sisteme, Drugo izdanje
Objavila Svetska zdravstvena organizacija 2012. godine pod naslovom. Safe Abortion: technical and policy guidance for health systems – 2nd ed.
Za više informacija kontaktirajte: Department of Reproductive Health and Research World Health Organization. Avenue Appia 20, CH-1211 Geneva 27, Switzerland. ISBN 978-86-80476-00-1
Svetska zdravstvena organizacija je Asocijaciji za seksualno i reproduktivno zdravlje Srbije dala prava na prevod i objavljivanje na srpskom jeziku, a Asocijacija je isključivo odgovorna za kvalitet i vernost srpskog prevoda. U slučaju neusaglašenosti između izdanja na engleskom i srpskom, originalna engleska verzija će biti smatrana obavezujućom i autentičnom.
Bezbedan abortus tehnički i regulatorni priručnik za zdravstvene sisteme.
Teme:
Abortus, indukovan – metode;
Abortus, indukovan – standardi;
Prenatalna nega – organizovanje i administriranje
Prenatalna nega – standardi
Briga o majci
Zdravstvene poliike
Uputstva
(c) Asocijacija za seksualno i reproduktivno zdravlje Srbije 2016
All documents of the World Health Organization
Ресурс: https://apps.who.int/iris/bitstream/handle/10665/70914/9789241548434_srp.pdf