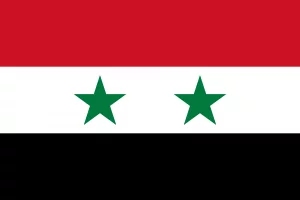 Abortion Laws in Syria
| | |
| --- | --- |
| Law, Regulations | Penal Code, 1949; Decree with the force of Law No. 12/1970. |
| Indications | Life. |
| Time limit | Not specified. |
| Providers | Medical specialist (perhaps including midwives). |
| Location of Services | Not specified. |
SYRIA. The Penal Code. Legislative Decree No. 148 of 22 June 1949.
Art. 525 Toute propagande commise par l'un des moyens prevues a l'article 208-2 et 3, en vue de repandre ou de faciliter l'usage de pratiques abortives, sera puni de deux mois a deux ans d'emprisonnement et de cinquante a deux cents cinquante livres d'amende.
Art. 526. Encourra la meme peine quiconque aura vendu ou mis en vente, ou detenu dans le but de mettre en vente, des objects destines a produire l'avortement, ou qui d'une maniere quleconque, en aura facilite l'usage.
Art. 527. Toute femme qui, par un moyen quelconque employe soit par elle, soit par un tiers avec son consentement, se sera fait avorter, encourra la peine d'emprisonnement de six mois a trois ans.
Art. 528. 1) Quiconque aura, par un moyen quelconque, procure ou tente de procurer l'avortement d'une femme avec son consentement, sera puni d'un emprisonnement d'un a trois ans.
2) Si l'avortement ou les moyens employes a cette fin ont occasionne la mort de la femme, le coupable sera puni de quatre a sept annees de travaux forces.
3) La peine sera de cinq a dix ans si la mort a ete causee par l'emploi de moyens plus dangereux que ceux auxquels la femme avait consenti.
Art. 529. 1) Quiconque aura intentionnellement provoque l'avortement d'une femme sans son consentement sera puni des travaux forces a temps pour cinq ans au moins.
2) Si la femme decede des suites de l'avortement, ou des moyens employes a cette fin, la peine ne sera pas inferieure a dix annees.
Art. 530. Les peines des articles 528 et 529 seront applicables meme si la femme sur laquelle les manoeuvres abortives ont ete pratiquees n'etait pas enceinte.
Art. 531. Beneficiera d'une excuse attenuante la femme qui sera fait avorter pour sauver son honneur de meme que la personne
coupable de l'une des infractions prevues aux articles 528 et 529 qui aura agi dans le but de sauver l'honneur de sa descendante, ou celui d'une parente jusqu'au deuxieme degre.
Art. 532. 1) Si l'un des delits prevus au present chapitre a ete commis soit a titre d'auteur, soit a titre d'instigateur ou de complice, par un medecin, chirurgien, sage-femme, pharmacien, ou par un de leurs preposes, la peine du coupable sera aggravee par application de l'article 247.
2) Il en sera de meme si l'auteur de l'infraction se livrait habituellement a la vente de produits pharmaceutiques ou d'objets destines a procurer l'avortement.
3) Le coupable sera en outre passible de l'interdiction d'exercer sa profession ou son activite meme si celles-ci ne sont pa subordonnees a l'autorisation de l'autorite ou a l'obtention d'un diplome.
4) La fermeture de l'etablissement pourra aussi etre prononcee.
Law on the exercise of medical professions, Decree with the force of Law No. 12/1970.
Article 47. (a) …
(b) A physician or midwife is prohibited from carrying out an abortion by any means whatever except when the continuance of the pregnancy poses a danger to the life of the mother. In that case the following conditions apply:
1. The abortion must be carried out a medical specialist with the agreement of another physician.
2. Before the operation, a record is to be composed that certifies the necessity of the abortion.
3. Four copies of the record or more if need be are to be produced; one is to be retained by the family and by each physician. The physicians and the patient or her spouse or legal representative must sign these.