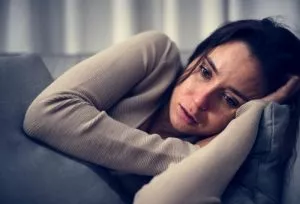 Depression after abortion. Post-abortion syndrome (PAS)
Many women experience guilt, low moods, and emptiness following the abortion procedure. Occasionally, neurological symptoms associated with abortion occur, such as unexplained lower abdominal pain and migraine-like headaches.
Recently, a particular term Post-abortion Syndrome (PAS), has emerged in the medical community. This term encompasses all the physiological and mental disorders connected to pregnancy and artificial termination.
What does this syndrome encompass, and how can it be managed successfully?
The post-abortion syndrome includes the following main manifestations:
The woman's abortion heightened memories and hallucinations (rare) form in the nightmares.
Psychological discomfort, which may increase in various situations. For example, when visiting a gynecologist.
Many people become overly irritable, find it difficult to control their emotions, and experience angry outbursts.
There is interest a loss in the life around them. Women may refuse to have sex due to trust lack in their partner.
Rarely, patients may have suicidal ideation following abortion. Alcohol or powerful sedative medications may lead to suicidal ideation.
Recomendations for depression after abortion
To deal with the problem, you need to accept the situation. This is very important: your suffering will only increase over time if you keep running away from yourself, ignoring or denying your mental state.
Psychologists do not recommend withdrawing into yourself. It would be best to understand that you can always find people who listen to you, understand, and support you in your environment.
It is perfect for you if you only do things that bring pleasure in your spare time, allowing you to distract yourself from sad thoughts completely. For example, go to the premiere at the theatre, visit the theatre, an exhibition, a club, go to the beauty salon, do your favorite hobby. Don't be alone with yourself. Socialize and spend time with family, friends, and loved ones. Let your friends and family know how much you are hurting and how difficult this is.
Community service work (volunteering at an orphanage, fundraising for sick children) or charity work, as psychologists assure you, is beneficial in overcoming post-abortion syndrome.
Try to do as much as you can to get rid of painful experiences, and they are useless feelings. The past cannot come back, so get on with your life and enjoy it!